ToolBOSS Vending Solutions
ToolBOSS vending solutions help to reduce costs and improve efficiencies to give you a competitive edge.
We will identify the vending solution best suited to help you:
Cut tooling inventory by 50% or more
Decrease spending on tooling by up to 30%
Reduce administrative costs by as much as 90%
Why Should You Use Kennametal ToolBOSS Services?
Faster Results: We can help you to establish needs, identify solutions, and achieve measurable results, quickly and cost effectively
Proven Methodology: Successful implementation requires careful planning, teamwork, disciplined execution, and your active involvement
Disciplined Project Execution: We have implemented hundreds of customized supply chain programs with major manufacturers worldwide, achieving impressive efficiency gains, cost reductions, and other related benefits.
Superior Service: Our ongoing support, education, installation, and maintenance programs deliver the latest updates and technologies to easily adapt your supply chain to changing industry conditions
Commitment to Success: We believe our success depends upon your success. We are committed to helping you achieve long-term operational and financial benefits
ToolBOSS Vending Solution Units
Combine ToolBOSS Vending Units with the powerful management software to create a highly versatile, high-capacity, and highly secure storage solution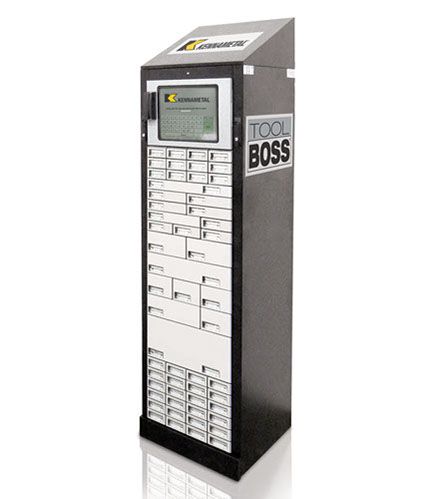 The ToolBOSS™Original
Combined with our powerful ToolBOSS™ Management Software, the cabinet provides a versatile high-capacity solution to meet the unpredictable challenges of logistics and supply chain management.
Reconfigurable: Single trays or the entire frame can be easily changed in minutes without the use of tools
Unique Manual Override Ability: Unique manual override capability, easy-to-use, and 24/7 availability
Drawer Options: 30 different drawer sizes available to accommodate a large variety of differently sized items; additional special sizes are available upon request
Security: Access to items in the cabinet can be restricted by the use of: username, password, biometric identification, card readers, or a combination of these options. High-strength drawer locks cannot be forced open by normal or aggressive use, without using tools
Compatibility: The cabinet is fully compatible with existing ToolBOSS units
High-Speed Access: Rapid search and selection of items via the ToolBOSS software is enhanced with an LED identification system that guides users to the correct drawer
Expandability: The cabinet can be expanded by up to 10 units per system, providing up to 1,121 secure locations
Dimensions: 20.1" D x 21.5" W x 78.7" H (510mm D x 545mm W x 2000mm H)
Capacity: As a stand-alone machine: — 26 levels — 104 locations (max) — 1,248 compartments (max)
As an add-on machine: — 28 levels — 113 locations (max) — 1,344 compartments (max)
4 Other styles of ToolBOSS Units – Journeyman, Supply Lockers, Modulo and Rotopoint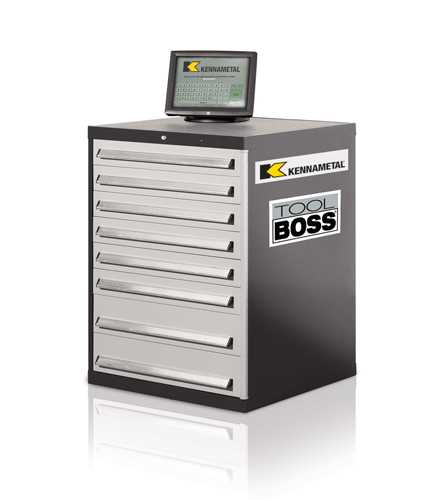 The ToolBOSS™ ECTC (Journeyman)
A Conventional Cabinet with ToolBOSS Electronic Lock Upgrade
Software: Uses a light version of the ToolBOSS operating software. Migrates easily into ToolBOSS equipment and software — no new software to learn
Security: ToolBOSS ECTC (Journeyman) offers drawer-level security to conventional tool cabinets that are upgraded with a ToolBOSS electronic lock. This lock provides additional security to the electronic locks supplied by many cabinet manufacturers. With the ToolBOSS electronic lock, users can open only specific drawers, rather than the entire cabinet. An LED light illuminates the drawer that is unlocked
Cost-Effective: Provides cost-effective control for a large number of lower usage and lower cost items
Ensures that the correct drawer opens when an authorized user requests an item via the software
Compatibility: Requires no additional training for existing ToolBOSS users
Versatility: Suitable for storing small to large sized items
Stand-alone: Can be used as a stand-alone or add-on
Dimensions: 7 drawers: all 28-1/4" W x 28-1/2" D (71,76mm W x 72,39mm D) Each available in different heights
Weight Capacity: 440 lbs (200 kg)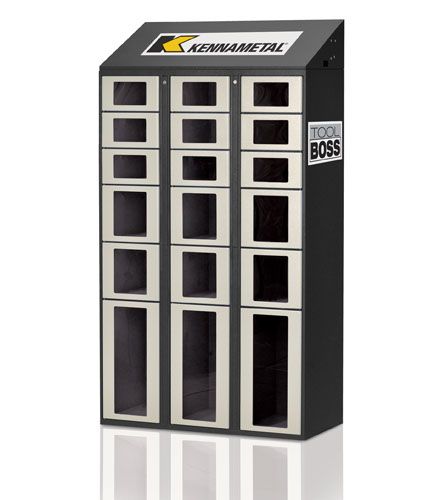 Supply Lockers
Bulk Storage and Large Items
Bulk Storage: Three different cupboard sizes available
Stand-alone: Can be used as a stand-alone solution for managing large and bulky items
Configurable: Each locker can be configured with a mixture of three different cupboard sizes
Secure Locations: Up to 27 secure locations in a single unit
Expandable: Can be expanded by up to 10 lockers providing up to 270 secure locations
Compatibility: Can be seamlessly integrated into any existing ToolBOSS installation
Manual Override: Easy-to-use manual override capability to ensure access to items in case of power or computer failure
Dimensions: Frame: 20.1" D x 42.9" W x 78.7" H (510 mm D x 1090mm W x 2000mm H); Cupboards: Small: 0.63" H x 125.98" W x 196.85" D (154mm H x 320mm W x 500mm D), Medium: 100" H x 125.98" W x 196.85" D (254mm H x 320mm W x 500mm D), Large: 202.75" H x 125.98" W x 196.85" D (515mm H x 320mm W x 500mm D)
Weight Capacity: 165.35 lbs (75 kg) per cupboard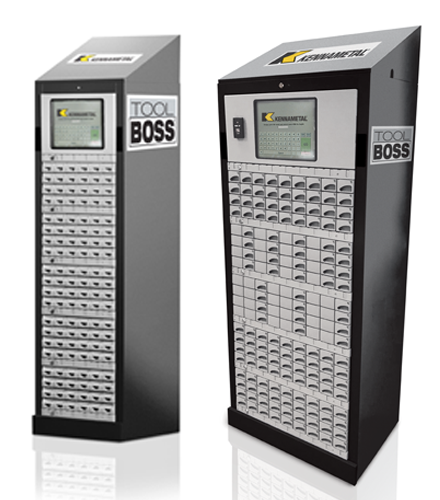 Modulo
High Capacity, Competitive, and Modular
Configurable: Can be configured to provide different size drawers and compartments
High Capacity: Up to 120 secure locations managing up to 1,440 items
Unique Manual Override Ability: Easy-to-use, unique front access manual override capability, which requires no disassembly. The override can be set to allow access to only the required items, maintaining the security of the rest of your vital components
Easy Scoop Design: Compartment shape ensures smooth retrieval of contents
High-Speed Access: Rapid search and selection of items is enhanced with a complete LED identification system, which guides users to the drawer
Expandable: Up to 10 units per system, providing 1,200 secure locations, managing up to 14,400 items
Compatibility: The MODULO unit is fully compatible with all existing ToolBOSS machines
Dimensions: 20.1" D x 21.5" W x 78.7" H (510mm D x 545mm W x 2000mm H)
Capacity: 120 locations, 1,440 compartments (max)
Construction: Steel frame, ABS plastic drawers
User Interface: 15" capacitive touchscreen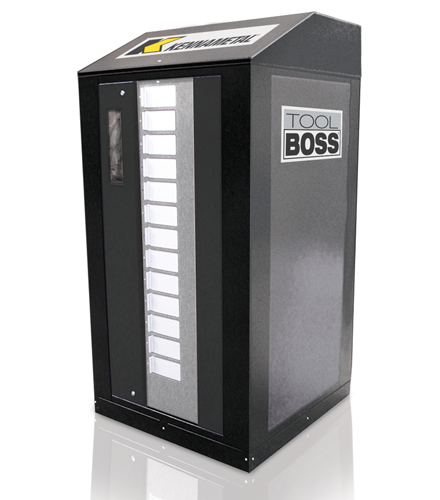 Rotopoint
Ideal Solution where Space is Limited but a Large Number of Different Items Must Be Managed, like Gloves, Goggles, and Hand Tools
Non-Tooling Support: Ideal for MRO items, such as gloves, goggles, and hand tools
Low to High Volume: ROTOPOINT is available in 6 variations, providing a wide number of locations from 90 up to a maximum of 468 in a single unit
Manual Override: ROTOPOINT has a simple manual override that allows the contents to be accessed in case of power outages
Security: The compartments in the ROTOPOINT are hidden from view behind sturdy sliding doors and can withstand vigorous use. The contents can be randomly distributed around the ROTOPOINT, reducing the risk of the unauthorized removal of contents
Expandability: The ROTOPOINT unit can be expanded by up to 10 units per system to provide up to 4,680 secure locations, managed and controlled by ToolBOSS tool management software
Compatibility: The ROTOPOINT is fully compatible with all existing ToolBOSS tool machines
Dimensions: 40.6" D x 40.6" W x 79.1" H (1030mm D x 1030mm W x 2010mm H)
Weight Capacity: 551.15 lbs (250 kg) uniform distributed load
Locations per Level: 18–36
Number of Doors: 5–13
Locations: 90–468 in a single frame
The Kennametal ToolBOSS Provides:
24/7 automated control
Guaranteed availability
Secure, auditable storage
Consumable and reusable tooling solution
sItem calibration tracking and control
Line side availability
Fast and easy system operation
Complete user accountability
Automatic procurement capabilities
Centralized SQL database
ToolBOSS Provides an Easy Way to:
Reduce inventory procurement costs
Improve product availability
Reduce tooling/consumable waste
Improve customer relationship
Enhance calibration tracking and control
Improve productivity
Take Control with ToolBOSS Software
The software system that drives ToolBOSS is powerful and easy to use.
Because of the unique design of the ToolBOSS, items can be issued and returned for repeated use. This is valuable for inspection equipment and tooling applications.
The software allows issue by multiple criteria (cell, job, user) and access to restricted items, such as those required for a single job, while allowing general-use items (e.g., safety equipment) to be available to everybody.
Controlled access through permissions, passwords, and access devices enables each user a unique "profile" to suit their individual requirements. A supplier can restock the machines, but an operator can only withdraw and return items.
ToolBOSS controls items outside the unit by issuing a key or items directly. Loose items, such as screws and washers, can be issued by weight using built-in electronic scales. Batch or individual traceable items, such as inspection equipment or aircraft spares, can be managed. A coded, non-editable audit trail provides evidence of every transaction. Search routines, and the ability to display images of both items and the users, are also part of the design.
Once a report has been defined, it can be accessed anywhere on the network or sent via email. With the networking and hardware built into ToolBOSS as standard, users on the network can access ToolBOSS to reconfigure, run reports, and collect ordering information. Full EDI/electronic capability is included for analysis of information and purchasing. Multiple independent suppliers can access only their information.
Multiple ToolBOSS units can be networked together and provide information about each unit's contents.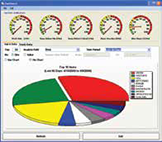 Every ToolBOSS machine includes a powerful, flexible report generator that enables standard and customized report output