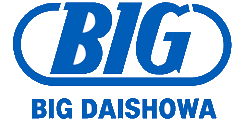 BIG DAISHOWA is an industrial tooling company with facilities in Japan, Germany and the USA. They are a global supplier of precision metal cutting tools and machine tool accessories. BIG DAISHOWA designs, manufactures and markets premium high-precision tooling systems and solutions for the Automotive, Aerospace, Agriculture, Energy, and Medical industries among others.

The BIG DAISHOWA Group is a family-owned company with 900 employees worldwide. The product portfolio is made in Switzerland, Japan and the USA, comprising of more than 20,000 precision tools that adhere to the highest quality standards. A trendsetter in precision, performance, innovation and service, BIG DAISHOWA is proud of its in-house production of digital displays and direct electronic measuring systems for digital precision boring heads to ensure absolute setting accuracy and eliminate operating errors.

BIG DAISHOWA delivers the most accurate and efficient tooling solutions — guaranteed.